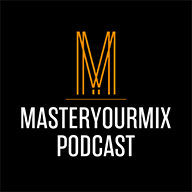 Introducing the MasterYourMix Podcast!
This podcast is designed to help engineers, artists, and producers improve the quality of their recordings and mixes (even from a home studio). Through interviews with many professionals in the industry as well as doing Q&As with listeners, my goal with this podcast is to help you learn tips, tricks, strategies and more so that you can overcome your biggest obstacles with music production.
In this episode I discuss what to expect from this podcast. In addition, I answer YOUR questions about mixing so that you can start to see significant improvements in your mixes.
IN THIS EPISODE YOU'LL LEARN
– How to get your drums to sound punchy without distorting a mix
– How to mix vocals to a two-track instrumental
– Proper panning techniques
– Why I think panning drums from the drummer perspective is much better than the audience perspective
– How to route you channels to help glue your tracks together
– Creating stereo width when you only have one guitar track
– The problem with mixing to instrumentals
To learn more tips on how to improve your mixes, visit https://masteryourmix.com/
Download your FREE copy of the Ultimate Mixing Blueprint: https://masteryourmix.com/blueprint/
Get your copy of the #1 Amazon bestselling book, The Mixing Mindset – The Step-By-Step Formula For Creating Professional Rock Mixes From Your Home Studio: https://masteryourmix.com/mixingmindsetbook/
Join the FREE MasterYourMix Facebook community: https://links.masteryourmix.com/community
To make sure that you don't miss an episode, make sure to subscribe to the podcast on iTunes or on Android.
Have your questions answered on the show. Send them to questions@masteryourmix.com
Thanks for listening! Please leave a rating and review on iTunes!