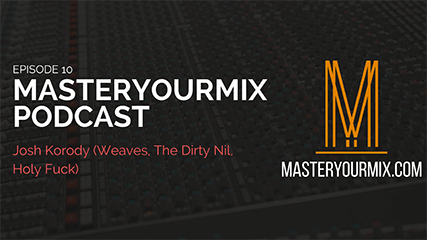 This week, I'm chatting with Josh Korody, owner of Candle Recording in Toronto. Josh has worked with artists such as Holy Fuck, Weaves, The Dirty Nil, and a bunch more.
IN THIS EPISODE YOU'LL LEARN ABOUT:
Starting a commercial studio
Gear vs quality of your work
Learn his extensive multi-mic technique for recording and committing to effects in the tracking stage
His non-traditional vocal recording technique
How to pick clients who meet your career goals
How to leave your mark in the industry
To learn more tips on how to improve your mixes, visit https://masteryourmix.com/
Download your FREE copy of the Ultimate Mixing Blueprint: https://masteryourmix.com/blueprint/
Get your copy of the #1 Amazon bestselling book, The Mixing Mindset – The Step-By-Step Formula For Creating Professional Rock Mixes From Your Home Studio: https://masteryourmix.com/mixingmindsetbook/
Join the FREE MasterYourMix Facebook community: https://links.masteryourmix.com/community
To make sure that you don't miss an episode, make sure to subscribe to the podcast on iTunes or on Android.
Have your questions answered on the show. Send them to questions@masteryourmix.com
Thanks for listening! Please leave a rating and review on iTunes!