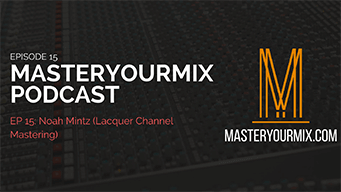 In this week's episode, I'm interviewing Noah Mintz. Noah is the owner and senior mastering engineer at Lacquer Channel Mastering. He has mastered projects for artists such as Billy Talent, The Sheepdogs, The Birthday Massacre, The National and so many more. In this episode we really dive deep into understanding the mystery of mastering and everything that's involved.
YOU'LL LEARN ABOUT:
Preparing your mixes for mastering
The art of minimalism in mastering
His secret mastering tool
The importance of preserving dynamic range in your tracks – "Headroom's totally not important… Dynamic Range is important"
Getting your mixes to translate across other sets of speakers
Understanding the value of your work
Visit Lacquer Channel Mastering: http://lacquerchannel.com/
To learn more tips on how to improve your mixes, visit https://masteryourmix.com/
Download your FREE copy of the Ultimate Mixing Blueprint: https://masteryourmix.com/blueprint/
Get your copy of the #1 Amazon bestselling book, The Mixing Mindset – The Step-By-Step Formula For Creating Professional Rock Mixes From Your Home Studio: https://masteryourmix.com/mixingmindsetbook/
Join the FREE MasterYourMix Facebook community: https://links.masteryourmix.com/community
To make sure that you don't miss an episode, make sure to subscribe to the podcast on iTunes or on Android.
Have your questions answered on the show. Send them to questions@masteryourmix.com
Thanks for listening! Please leave a rating and review on iTunes!