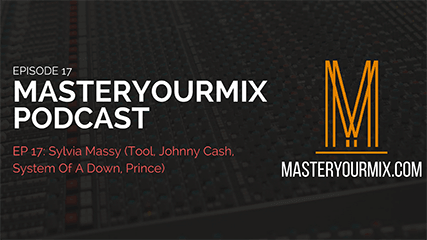 Sylvia Massy is one of the most creative engineer/producers in the world. Her fun, innovative and experimental approach to recording has led to her working with major artists such as Tool, System Of A Down, Prince, Johnny Cash, and more. She has been awarded over 25 gold and platinum records, including several Grammy nominated albums.
She recently released a new book called "Recording Unhinged" which focuses on her unique, unusual, and sometimes dangerous production techniques. In addition to her personal collection of experimental techniques, the book also contains stories from countless other major producers/engineers documenting their most creative endeavours in the studio. You have to check out this book. It's amazing!
IN THIS EPISODE, YOU'LL LEARN:
Her hybrid mixing style
Pre-production – What's involved, why you need it, and what to be focused on in this stage
Wet vs. dry vocals – How to get the vocal to sit in front
Rick Rubin's "Slippery Fader" technique
Being creative in the studio
The benefits of "adventure recording"
Creating lasting memories for the artists you're working with
Click here to buy Sylvia's Book "Recording Unhinged: Creative and Unconventional Music Recording Techniques
Check out Sylvia's website: http://www.sylviamassy.com/
To learn more tips on how to improve your mixes, visit https://masteryourmix.com/
Download your FREE copy of the Ultimate Mixing Blueprint: https://masteryourmix.com/blueprint/
Get your copy of the #1 Amazon bestselling book, The Mixing Mindset – The Step-By-Step Formula For Creating Professional Rock Mixes From Your Home Studio: https://masteryourmix.com/mixingmindsetbook/
Join the FREE MasterYourMix Facebook community: https://links.masteryourmix.com/community
To make sure that you don't miss an episode, make sure to subscribe to the podcast on iTunes or on Android.
Have your questions answered on the show. Send them to questions@masteryourmix.com
Thanks for listening! Please leave a rating and review on iTunes!