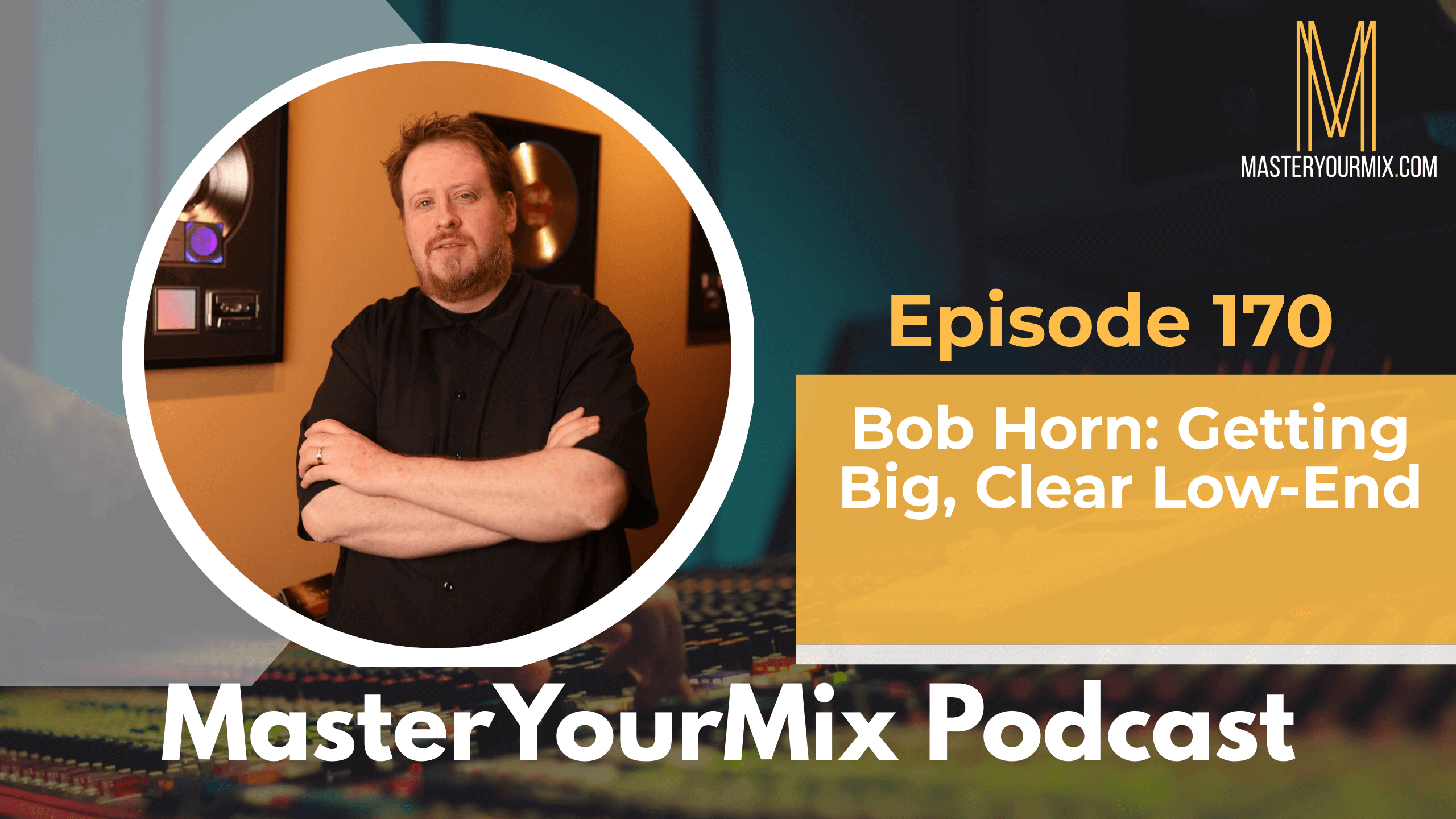 Bob Horn is a multi-platinum, Grammy award winning mix engineer known for working with artists spanning many genres; R&B, Pop, Hip Hop, Rock, Adult Contemporary, and Jazz, as well as artists from countries around the globe including The U.S., Korea, Japan, Australia, Spain, Indonesia, Brazil, and China.
Some of those artists include: BTS, Usher, Timbaland, Michael Jackson, NeYo, Marshmello, Kane Brown, DVRKO, Neon Trees, Kelly Clarkson, Brandy, Ashanti, Twice, Everglow, Little Monarch, Akon, Lupe Fiasco, Chinx, Stalley, Brian Culbertson, Everclear, Faith Evans, Brian McKnight, LeAnn Rimes, The Common Kings and many more.
IN THIS EPISODE, YOU'LL LEARN ABOUT:
Building a studio from the ground up vs. retrofitting a space

Downsizing to a home studio

The downside to amazing studio monitors

Making mixes for accuracy vs. feeling

Checking rough mixes

Should you mix with or without a bus compressor/limiter?

The importance of getting your "crest" factor right

Why mid-range is so critical to nail

Should you high-pass filter everything?

Creating contrast in a mix

How to get vocals that sound polished and controlled

Compression vs. automation
To learn more about Bob Horn, visit: https://www.bobhornmixing.com/
To learn more tips on how to improve your mixes, visit https://masteryourmix.com/
Download your FREE copy of the Ultimate Mixing Blueprint: https://masteryourmix.com/blueprint/
Get your copy of the #1 Amazon bestselling book, The Mixing Mindset – The Step-By-Step Formula For Creating Professional Rock Mixes From Your Home Studio: https://masteryourmix.com/mixingmindsetbook/
Join the FREE MasterYourMix Facebook community: https://links.masteryourmix.com/community
To make sure that you don't miss an episode, make sure to subscribe to the podcast on iTunes or on Android.
Have your questions answered on the show. Send them to questions@masteryourmix.com
Thanks for listening! Please leave a rating and review on iTunes!