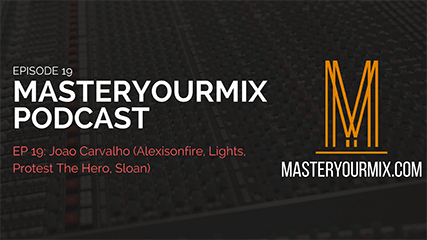 Joao Carvalho is a Grammy nominated mastering engineer who has worked with artists such as Protest The Hero, Alexisonfire, Lights, Sloan, and many more. When it comes to someone who understands how to make masters that translate across multiple sets of speakers, no one knows this better than him.
IN THIS EPISODE, YOU'LL LEARN ABOUT:
His secret mastering tool
When mastering is necessary and when it isn't
Mastering albums based around one song
EQ – before or after compression?
"It's all about the eq curve"
To learn more tips on how to improve your mixes, visit https://masteryourmix.com/
Download your FREE copy of the Ultimate Mixing Blueprint: https://masteryourmix.com/blueprint/
Get your copy of the #1 Amazon bestselling book, The Mixing Mindset – The Step-By-Step Formula For Creating Professional Rock Mixes From Your Home Studio: https://masteryourmix.com/mixingmindsetbook/
Join the FREE MasterYourMix Facebook community: https://links.masteryourmix.com/community
To make sure that you don't miss an episode, make sure to subscribe to the podcast on iTunes or on Android.
Have your questions answered on the show. Send them to questions@masteryourmix.com
Thanks for listening! Please leave a rating and review on iTunes!