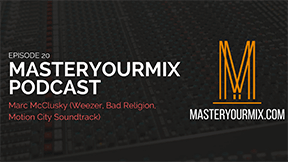 Marc McClusky is a multi-platinum award winning producer, mixer, and engineer who has worked on countless rock records. His credits include bands like Weezer, Motion City Soundtrack, Bad Religion, Everclear and a bunch more. When it comes to the importance of getting great drum sounds, Marc is an expert at this. In fact, he recently launched his own drum sample company, Smack Drum Samples, to help people like you enhance your own productions.
IN THIS EPISODE, YOU'LL LEARN ABOUT:
Marc's new sample company
Using room tracks to make your drums sound huge
His secret tip for getting snares to cut through the mix
Using parallel compression
Working at Sound City
His trick for mastering the low end when mixing
And so much more…
*** As a special bonus, Marc has made an exclusive FREE Smack Drum Sample pack for MasterYourMix subscribers. These samples are perfect for rock, punk, pop or metal music.***
Download your FREE Smack Drum Samples pack by visiting: http://www.masteryourmix.com/smackdrumsamples
Learn more about Smack Drum Samples: http://www.smackdrumsamples.com
To learn more tips on how to improve your mixes, visit https://masteryourmix.com/
Download your FREE copy of the Ultimate Mixing Blueprint: https://masteryourmix.com/blueprint/
Get your copy of the #1 Amazon bestselling book, The Mixing Mindset – The Step-By-Step Formula For Creating Professional Rock Mixes From Your Home Studio: https://masteryourmix.com/mixingmindsetbook/
Join the FREE MasterYourMix Facebook community: https://links.masteryourmix.com/community
To make sure that you don't miss an episode, make sure to subscribe to the podcast on iTunes or on Android.
Have your questions answered on the show. Send them to questions@masteryourmix.com
Thanks for listening! Please leave a rating and review on iTunes!