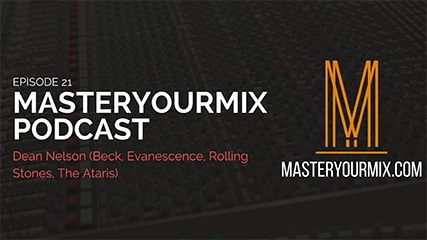 Dean Nelson is an engineer, mixer, and producer who, in his time, has assisted some of the biggest engineers in the industry (Jack Joseph Puig, Mark Trombino, Neil Avon). He's also worked alongside major artists such as Beck, Evanescence, Rolling Stones, The Ataris, and more.
IN THIS EPISODE, YOU'LL LEARN ABOUT:
Working with Jack Joseph Puig
Developing the ability to listen critically ("listening to the negative space")
Mixing with the big picture in mind
Adding creative textures to your mixes ("You've just gotta sometimes just take a bucket of orange paint and pour it on it")
Low end management – finding the balance of kick and bass
To learn more tips on how to improve your mixes, visit https://masteryourmix.com/
Download your FREE copy of the Ultimate Mixing Blueprint: https://masteryourmix.com/blueprint/
Get your copy of the #1 Amazon bestselling book, The Mixing Mindset – The Step-By-Step Formula For Creating Professional Rock Mixes From Your Home Studio: https://masteryourmix.com/mixingmindsetbook/
Join the FREE MasterYourMix Facebook community: https://links.masteryourmix.com/community
To make sure that you don't miss an episode, make sure to subscribe to the podcast on iTunes or on Android.
Have your questions answered on the show. Send them to questions@masteryourmix.com
Thanks for listening! Please leave a rating and review on iTunes!