Matt Squire is a multi-platinum producer, songwriter and engineer who has worked on countless hits in both the rock/punk and pop genres. He has worked alongside some of the biggest names in both scenes including Panic! At The Disco, All Time Low, the Used, Katy Perry, Ariana Grande, and so many more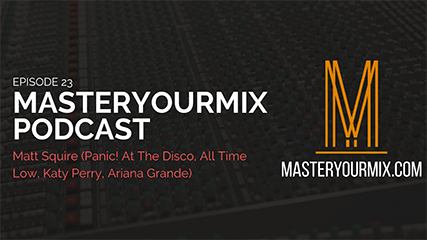 IN THIS EPISODE YOU'LL LEARN ABOUT:
Your value as a producer
Developing the skills for songwriting
Working with songwriting greats like Max Martin
Pop vocal production
Royalty collection – How to collect money you're owed (and might not even know you're owed)
His new startup venture Trustream which aims to improve transparency between interactive streaming companies and royalty collection agencies
Check out Matt's website for production: http://www.mattsquire.com/
Check out Trustream's website: https://trustream.co/
To learn more tips on how to improve your mixes, visit https://masteryourmix.com/
Download your FREE copy of the Ultimate Mixing Blueprint: https://masteryourmix.com/blueprint/
Get your copy of the #1 Amazon bestselling book, The Mixing Mindset – The Step-By-Step Formula For Creating Professional Rock Mixes From Your Home Studio: https://masteryourmix.com/mixingmindsetbook/
Join the FREE MasterYourMix Facebook community: https://links.masteryourmix.com/community
To make sure that you don't miss an episode, make sure to subscribe to the podcast on iTunes or on Android.
Have your questions answered on the show. Send them to questions@masteryourmix.com
Thanks for listening! Please leave a rating and review on iTunes!