Billy Decker is an incredible mixing engineer who primarily works in the country music genre. To date he has mixed 15 #1 hits. Some of the artists he has worked with include Kenny Chesney, Darius Rucker, Jason Aldean and more. Not only is he known for creating amazing sounding records, but he has also built up quite the reputation for being able to finish mixes extremely fast. His process is truly amazing to hear.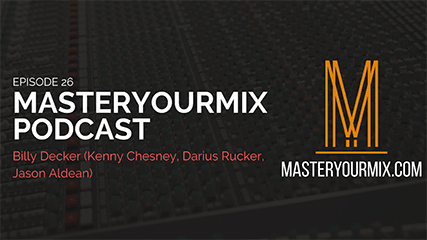 IN THIS EPISODE, YOU'LL LEARN ABOUT:
• How he creates #1 hit mixes in under an hour
• Setting up mixing templates
• Finding a balance in life of work vs pleasure/family/hobbies/etc.
• Niching down your services
• His minimalist approach to automation
• Maintaining customer relationships outside of the studio
Visit Billy's website: http://www.billydecker.com/
To learn more tips on how to improve your mixes, visit https://masteryourmix.com/
Download your FREE copy of the Ultimate Mixing Blueprint: https://masteryourmix.com/blueprint/
Get your copy of the #1 Amazon bestselling book, The Mixing Mindset – The Step-By-Step Formula For Creating Professional Rock Mixes From Your Home Studio: https://masteryourmix.com/mixingmindsetbook/
Join the FREE MasterYourMix Facebook community: https://links.masteryourmix.com/community
To make sure that you don't miss an episode, make sure to subscribe to the podcast on iTunes or on Android.
Have your questions answered on the show. Send them to questions@masteryourmix.com
Thanks for listening! Please leave a rating and review on iTunes!