When it comes to mixing, most home studio engineers don't have a process to follow. As a result, they find themselves feeling unsure of where to begin, how to process individual tracks, make them all work together, and know exactly when their work is finished. Working like this can be frustrating since it often is time consuming and results in weak, lifeless mixes. That's where having a workflow comes in handy. By having a repeatable process to follow in every single mix, it will allow you to keep focus, feel confident, and work faster.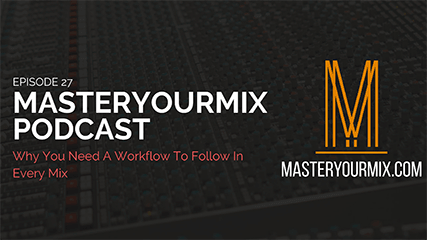 IN THIS EPISODE, YOU'LL LEARN ABOUT:

– The six-step process to complete your mixes from beginning to end
– How to keep your sessions organized
– How to route signals for maximum flexibility
– Why automation is so important
– How to stop second-guessing your work constantly


To learn more tips on how to improve your mixes, visit https://masteryourmix.com/
Download your FREE copy of the Ultimate Mixing Blueprint: https://masteryourmix.com/blueprint/
Get your copy of the #1 Amazon bestselling book, The Mixing Mindset – The Step-By-Step Formula For Creating Professional Rock Mixes From Your Home Studio: https://masteryourmix.com/mixingmindsetbook/
Join the FREE MasterYourMix Facebook community: https://links.masteryourmix.com/community
To make sure that you don't miss an episode, make sure to subscribe to the podcast on iTunes or on Android.
Have your questions answered on the show. Send them to questions@masteryourmix.comThanks for listening! Please leave a rating and review on iTunes!