As we move into 2019, I was reflecting on some of the biggest discoveries and lessons I learned in 2018. In this episode, I want to share them with you so that you can start to implement them into your own studio. I believe that there is always room to grow when it comes to developing your skills and growing your studio business. I hope this episode sheds some light on some things that can help propel your career in 2019.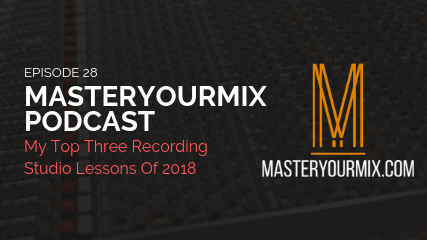 Get the Mixing Mindset book: https://www.amazon.com/dp/B07MHB8BJ2
Check out Salesflare CRM software and get a free trial: https://salesflare.grsm.io/MikeIndovina
To learn more tips on how to improve your mixes, visit https://masteryourmix.com/
Download your FREE copy of the Ultimate Mixing Blueprint: https://masteryourmix.com/blueprint/
Get your copy of the #1 Amazon bestselling book, The Mixing Mindset – The Step-By-Step Formula For Creating Professional Rock Mixes From Your Home Studio: https://masteryourmix.com/mixingmindsetbook/
Join the FREE MasterYourMix Facebook community: https://links.masteryourmix.com/community
To make sure that you don't miss an episode, make sure to subscribe to the podcast on iTunes or on Android.
Have your questions answered on the show. Send them to questions@masteryourmix.comThanks for listening! Please leave a rating and review on iTunes!