Chris Graham is an engineer who has built a six-figure home studio business by mastering bands online. Some of his clients have included artists on Universal Music, Sony, Warner Brothers, Disney and more. When it comes to starting and running a successful studio business, he is a fountain of great knowledge. He shares many of his tips on the show.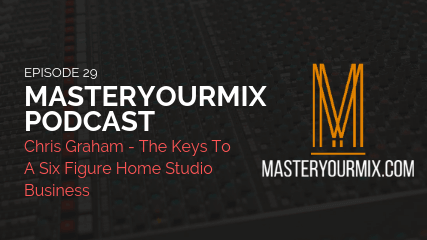 IN THIS EPISODE, YOU'LL LEARN ABOUT:
– Finding your niche in audio
– Applying the 80/20 principle to your studio business
– Creating a successful online mixing/mastering website that attracts new customers
– The "goosebump" theory
– Differentiating yourself from your competition
Visit Chris' Website: https://www.chrisgrahammastering.com
To learn more tips on how to improve your mixes, visit https://masteryourmix.com/
Download your FREE copy of the Ultimate Mixing Blueprint: https://masteryourmix.com/blueprint/
Get your copy of the #1 Amazon bestselling book, The Mixing Mindset – The Step-By-Step Formula For Creating Professional Rock Mixes From Your Home Studio: https://masteryourmix.com/mixingmindsetbook/
Join the FREE MasterYourMix Facebook community: https://links.masteryourmix.com/community
To make sure that you don't miss an episode, make sure to subscribe to the podcast on iTunes or on Android.
Have your questions answered on the show. Send them to questions@masteryourmix.comThanks for listening! Please leave a rating and review on iTunes!