Brian Moncarz is a producer/mixing engineer based out of Toronto, Canada who has worked with many top artists including Our Lady Peace, Circa Survive, Moneen, Hot Hot Heat and more. Having studied under famed producers Bob Ezrin and David Bottrill, Brian has very quickly risen to become one of Canada's top engineers. If there's one thing that he knows how to do really well, it's making great sounding rock records.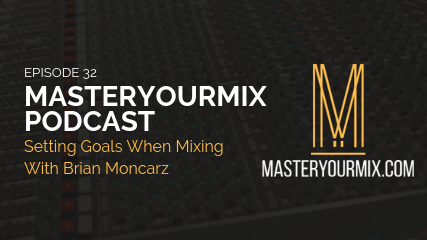 IN THIS EPISODE, YOU'LL LEARN ABOUT:

– How to keep the attention of the audience when writing songs
– The importance of finding a good mentor to push your skill development
– Working with bands like Moneen, Our Lady Peace and The Tea Party
– Setting goals with mixing
– His unique parallel bus process for getting punchy/fat drum tones

To learn more about Brian Moncarz, visit http://www.brianmoncarz.com/

Download your FREE copy of the Ultimate Mixing Blueprint (a guide to using EQ and compression in your mixes: www.masteryourmix.com/blueprint

To learn more tips on how to improve your mixes, visit http://www.masteryourmix.com/

To make sure that you don't miss an episode, make sure to subscribe to the podcast on iTunes or on Android.

Have your questions answered on the show. Send them to questions@masteryourmix.com

Thanks for listening! Please leave a rating and review on iTunes!