Sam Pura is an amazing engineer best known for his work with bands like The Story So Far, State Champs, Hundredth, and more. He has an obsession with capturing the details when recording and getting every element of the signal chain just right.

In fact, he is on such a mission to find the perfect tone, that he has even invested in building a robot that controls his microphone positions. He also has a moving "drumbrella" that can alter the amount of room ambience that he captures.

Before you get worried and start thinking that you can't get perfect tone without all sorts of crazy technology, you need to check out this episode. You'll be surprised to hear the discoveries that Sam has made.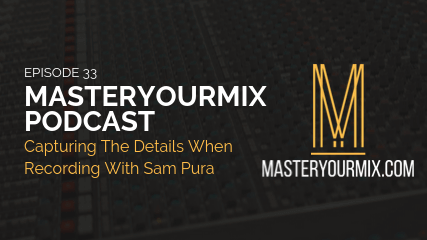 IN THIS EPISODE, YOU'LL LEARN ABOUT:

– Recording drums and how to find the right rhythms for your songs
– Sam's unique approach to recording guitars using only a DI (no amps)
– DIY gear: Why it's often better than the original brands and how it can save you money
– How he used a mic robot to find the perfect mic positions (and why you don't need a robot to get the same results)
– The reason people hire you vs. your competitors

To learn more about Sam Pura, visit http://thepandastudios.com/

Download your FREE copy of the Ultimate Mixing Blueprint (a guide to using EQ and compression in your mixes: www.masteryourmix.com/blueprint

To learn more tips on how to improve your mixes, visit http://www.masteryourmix.com/

To make sure that you don't miss an episode, make sure to subscribe to the podcast on iTunes or on Android.

Have your questions answered on the show. Send them to questions@masteryourmix.com

Thanks for listening! Please leave a rating and review on iTunes!