Garth "GGGarth" Richardson is a Canadian music producer and engineer who has engineered recordings for Rage Against The Machine, Motley Crue, Red Hot Chili Peppers, and countless more. He is the son of famed Canadian music producer Jack Richardson (whose credits include Alice Cooper, The Guess Who, Bob Seger)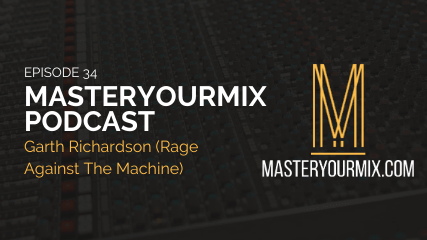 IN THIS EPISODE, YOU'LL LEARN ABOUT:

– Lessons he learned from his famed father
– Recording the first Rage Against The Machine record
– Garth debunks "facts" in the Sound City documentary
– Recording bands live off the floor vs tracking individually
– His techniques for recording huge guitars

To learn more tips on how to improve your mixes, visit http://www.masteryourmix.com/ 

Download your FREE copy of the Ultimate Mixing Blueprint: www.masteryourmix.com/blueprint 

To make sure that you don't miss an episode, make sure to subscribe to the podcast on iTunes or on Android.

Have your questions answered on the show. Send them to questions@masteryourmix.com

Thanks for listening! Please leave a rating and review on iTunes!
Podcast: Play in new window | Download
Subscribe: Apple Podcasts | Android | Google Podcasts | Stitcher | TuneIn | RSS