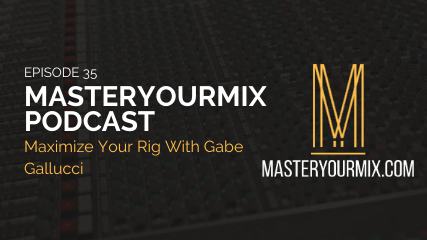 Gabe Gallucci is a producer and mix engineer based out of Toronto, Canada. He has mixed and recorded for artists such as Shawn Mendes, Francesco Yates, Victoria Duffield, David Otero, and so many more. His ear for sound has earned him multiple #1's worldwide and over a billion streams online. 
IN THIS EPISODE, YOU'LL LEARN ABOUT:

– Gabe's extensive deep dive into the analog vs digital debate- Maximizing your studio for efficiency
– How to record pristine vocals quickly
– Work-life balance
– Artist development and working with influencers

To learn more about Gabe Gallucci, check out: https://www.gabegallucci.com/


To learn more tips on how to improve your mixes, visit https://masteryourmix.com/
Download your FREE copy of the Ultimate Mixing Blueprint: https://masteryourmix.com/blueprint/
Get your copy of the #1 Amazon bestselling book, The Mixing Mindset – The Step-By-Step Formula For Creating Professional Rock Mixes From Your Home Studio: https://masteryourmix.com/mixingmindsetbook/
Join the FREE MasterYourMix Facebook community: https://links.masteryourmix.com/community
To make sure that you don't miss an episode, make sure to subscribe to the podcast on iTunes or on Android.
Have your questions answered on the show. Send them to questions@masteryourmix.com
Thanks for listening! Please leave a rating and review on iTunes!