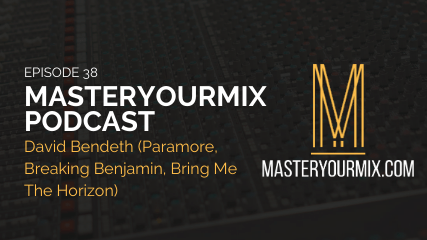 David Bendeth is a multi-platinum, award winning producer who has worked with artists such as Paramore, Breaking Benjamin, Bring Me The Horizon, and so many more. His journey has been full of many twists and turns and has led him to wearing many different hats in the music industry – from being an artist, A&R rep, producer, writer, and many more. David's experiences in these fields have all come together to help him achieve the success he has today.
IN THIS EPISODE, YOU'LL LEARN ABOUT:
– The hustle of working as a musician turned producer
– The world of A&R and what it takes to become a major artist
– How to differentiate every project
– How to adapt to the changing landscape of the music industry
– David's new adventures in creating hip hop loops and dipping into new genres
– Dealing with criticism and turning it into encouragement
– How to achieve drums that slam hard and cut through a mix
To learn more about David Bendeth, visit https://davidbendeth.com/
To learn more tips on how to improve your mixes, visit https://www.masteryourmix.com/ 
Download your FREE copy of the Ultimate Mixing Blueprint: https://www.masteryourmix.com/blueprint 
To make sure that you don't miss an episode, make sure to subscribe to the podcast on iTunes or on Android.
Have your questions answered on the show. Send them to questions@masteryourmix.com
Thanks for listening! Please leave a rating and review on iTunes!