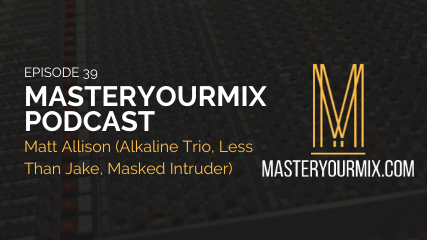 Matt Allison is a record producer based around the Chicago area who specializes in recording punk bands. He has produced bands such as Alkaline Trio, Less Than Jake, The Lawrence Arms, Masked Intruder, The Menzingers, and so many more. His approach to punk music is very different than most modern pop-punk producers. His sound can be described as energetic, natural, and raw – without all of the the modern over-editing that typically occurs in this genre.
IN THIS EPISODE, YOU'LL LEARN ABOUT:
– Shifting from owning a commercial studio to starting a home studio
– Getting great guitar tones
– Recording live off the floor
– How to keep your mix sounding natural
– How he accepted one of his biggest projects without even knowing how to use Pro Tools
– Using drum samples in a mix
To learn more tips on how to improve your mixes, visit https://masteryourmix.com/
Download your FREE copy of the Ultimate Mixing Blueprint: https://masteryourmix.com/blueprint/
Get your copy of the #1 Amazon bestselling book, The Mixing Mindset – The Step-By-Step Formula For Creating Professional Rock Mixes From Your Home Studio: https://masteryourmix.com/mixingmindsetbook/
Join the FREE MasterYourMix Facebook community: https://links.masteryourmix.com/community
To make sure that you don't miss an episode, make sure to subscribe to the podcast on iTunes or on Android.
Have your questions answered on the show. Send them to questions@masteryourmix.com
Thanks for listening! Please leave a rating and review on iTunes!