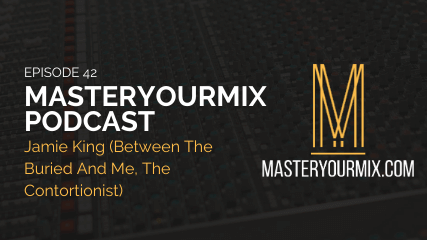 Jamie King is a producer, mixing and mastering engineer who's production style has helped to define some of the biggest prog-metal bands of today.  Having worked with artists like Between The Buried And Me and the Contortionist, Jamie has firmly established his footprint in the genre.

IN THIS EPISODE, YOU'LL LEARN ABOUT:
Working with programmed drums vs. real ones
Working on arrangements with panning mind
How to market your music as a prog band
How simplifying your setup can lead to better recordings
Recording tight guitars
Jamie's secret weapon for shaping guitar tones
Using automation to get separation between parts
Controlling low end when working with double kick/blast beats
To learn more about Jamie, visit: https://www.jamiekingaudio.com/
To learn more tips on how to improve your mixes, visit https://masteryourmix.com/
Download your FREE copy of the Ultimate Mixing Blueprint: https://masteryourmix.com/blueprint/
Get your copy of the #1 Amazon bestselling book, The Mixing Mindset – The Step-By-Step Formula For Creating Professional Rock Mixes From Your Home Studio: https://masteryourmix.com/mixingmindsetbook/
Join the FREE MasterYourMix Facebook community: https://links.masteryourmix.com/community
To make sure that you don't miss an episode, make sure to subscribe to the podcast on iTunes or on Android.
Have your questions answered on the show. Send them to questions@masteryourmix.com
Thanks for listening! Please leave a rating and review on iTunes!