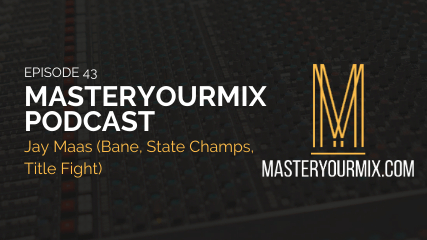 Jay Maas is a producer and engineer based out of Boston known for his work with many artists in the hardcore and punk genres. He has worked with bands such as Bane, State Champs, Citizen, Title Fight, Defeater and more. In addition to his audio skills, Jay also has a background in computer science. This has led to him creating technology aimed at helping musicians and engineers. His newest project is an online, AI-based mastering service called Maastr.
IN THIS EPISODE, YOU'LL LEARN ABOUT:
Surviving when getting started
Juggling many goals at once
Jay's new AI based mastering platform (Maastr)
The role of AI in modern music production
How AI can help us become better mixing engineers


To try out Maastr for free, visit: https://masteryourmix.com/maastr/
Save 15% when you sign up by using the coupon code: MYMPOD
To learn more about Jay, visit https://www.jaymaas.com/
To learn more tips on how to improve your mixes, visit https://masteryourmix.com/
Download your FREE copy of the Ultimate Mixing Blueprint: https://masteryourmix.com/blueprint/
Get your copy of the #1 Amazon bestselling book, The Mixing Mindset – The Step-By-Step Formula For Creating Professional Rock Mixes From Your Home Studio: https://masteryourmix.com/mixingmindsetbook/
Join the FREE MasterYourMix Facebook community: https://links.masteryourmix.com/community
To make sure that you don't miss an episode, make sure to subscribe to the podcast on iTunes or on Android.
Have your questions answered on the show. Send them to questions@masteryourmix.com
Thanks for listening! Please leave a rating and review on iTunes!