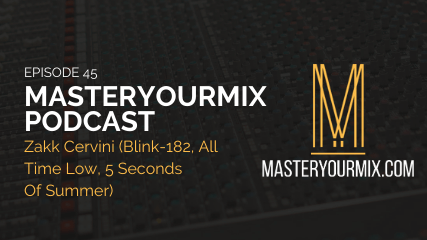 Zakk Cervini is a Grammy-nominated producer and mixing engineer who has worked with artists like Blink-182, All Time Low, Good Charlotte, 5 Seconds Of Summer, and many more. He is well known for being a very versatile engineer in the studio. His persistence and eagerness to constantly learn and adapt to the changing musical landscape is one of his big strengths that keeps him high in-demand.
IN THIS EPISODE, YOU'LL LEARN ABOUT:
Mixing on headphones
How to make templates work in multiple genres
Programing drums vs using real kits
How to serve the song
Using rough mixes as inspiration
Creating an inspiring studio environment
Follow Zakk Cervini on Instagram: @zakkcervini
Sign up for my FREE Recording Studio Workshop (taking place Sept 14-20, 2020): http://recordingstudioworkshop.com
To learn more tips on how to improve your mixes, visit https://www.masteryourmix.com/ 
Download your FREE copy of the Ultimate Mixing Blueprint: https://www.masteryourmix.com/blueprint 
To make sure that you don't miss an episode, make sure to subscribe to the podcast on iTunes or on Android.
Have your questions answered on the show. Send them to questions@masteryourmix.com
Thanks for listening! Please leave a rating and review on iTunes!