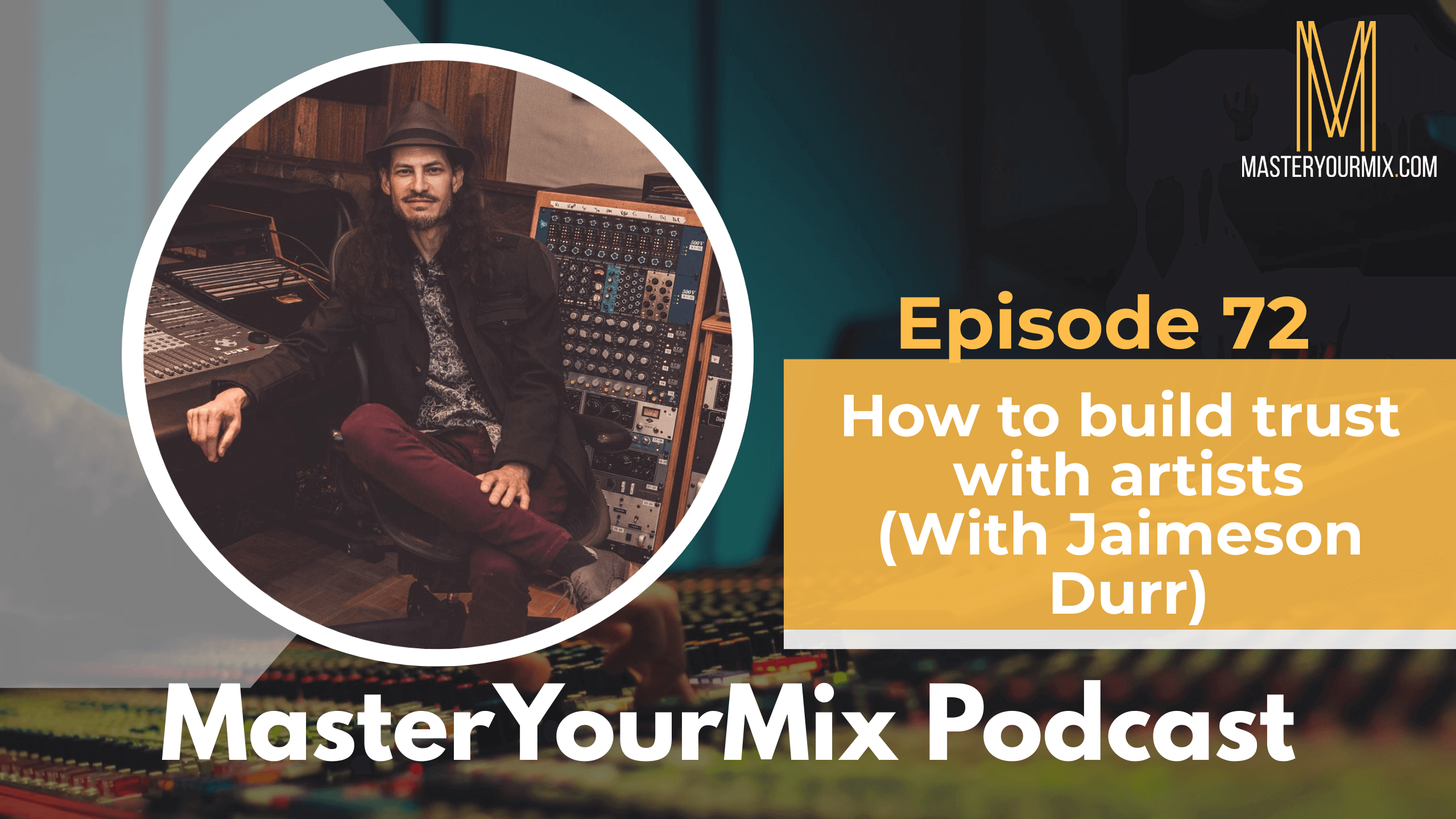 Jaimeson Durr is a San Francisco Bay Area recording engineer, mixer and producer that works on a variety of music genres from local legends like, Sammy Hagar, Joe Satriani, Chickenfoot, The Circle, The Dead, Dan the Automator as well as many other new promising artists.
For the past 14 years Jaimeson has been primarily working out of his own studio Wally's Hyde Out (formally Studio C) in the legendary Hyde Street Recording Studio complex where many well known artists recorded including Santana, Clearance Clearwater Revival, Jefferson Airplane,The Grateful Dead, Green Day, Train, and many, many more. 
He has also performed on and mixed several songs for hit prime time TV shows and movie trailers 90210, The Mindy Project, Ugly Betty, Rango, Arthur, The Lorax, Tangled and many more.
IN THIS EPISODE, YOU'LL LEARN ABOUT:
– Analog summing: Is it worth investing into it?
– How to build trust with artists so that they keep hiring you
– Deciding how much to edit
– The sweet spot for micing guitar cabinets
– Getting guitar tones with Joe Satriani
– How temperature can affect tuning
– Creating efficiencies to work quickly
– Recording records with iPhones 
To learn more about Jaimeson Durr, visit: www.JaimesonDurr.com
To learn more about his studio, Wally's Hydeout, visit: www.WallysHydeout.com
To learn more tips on how to improve your mixes, visit https://masteryourmix.com/
Download your FREE copy of the Ultimate Mixing Blueprint: https://masteryourmix.com/blueprint/
Get your copy of the #1 Amazon bestselling book, The Mixing Mindset – The Step-By-Step Formula For Creating Professional Rock Mixes From Your Home Studio: https://masteryourmix.com/mixingmindsetbook/
Join the FREE MasterYourMix Facebook community: https://links.masteryourmix.com/community
To make sure that you don't miss an episode, make sure to subscribe to the podcast on iTunes or on Android.
Have your questions answered on the show. Send them to questions@masteryourmix.com
Thanks for listening! Please leave a rating and review on iTunes!