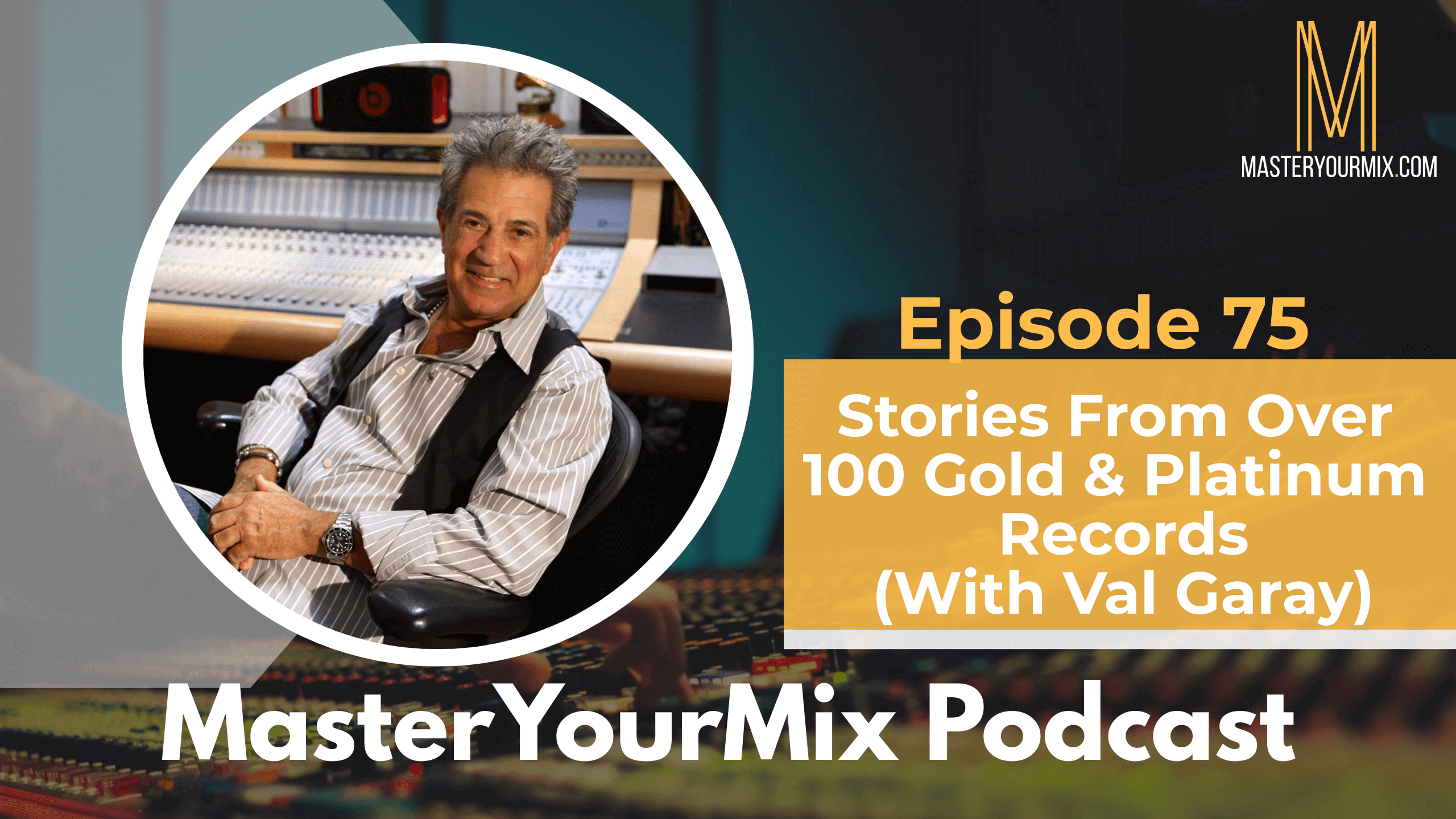 Val Garay is a legendary Producer/Engineer with a career spanning almost 4 decades when he started as a young singer/songwriter in the late 60's.
He's garnered over 100 gold & platinum records with total record sales over 125,000,000 worldwide.
He's been Nominated for Grammy's on 9 different occasions and won for the "Record of the Year & Song of the Year" with Bette Davis Eyes in 1981 and an Emmy Nomination for Neil Diamond's TV Special, "Glad You're Here With Me Tonight".
He's worked with such legendary artists as , Linda Ronstadt, James Taylor, Kim Carnes, The Motels, Jackson Browne, JD Souther, Sarah Brightman, Santana, Elton John, Bonnie Raitt, Andrew Gold, Frankie Valley & The Four Seasons, Marvin Gaye, Dolly Parton, Eric Carmen, Kenny Rogers, Neil Diamond, Joan Armatrading, Randy Meisner, Jennifer Warnes, Seals & Crofts, The Mama's & Papa's, Queensryche, Orleans, Donald Byrd & The Blackbyrds and the list continues.
IN THIS EPISODE, YOU'LL LEARN ABOUT:
How to create a snowball of success in the industry
Balancing your "sound" with the vision of the artists you work with
Should you put songs out frequently or is it better to wait?
"Letting go" with your music
Giving back to younger generations
How to get a balance of all of your drum kit tracks (without even turning on your monitors)
The secret to getting drums and bass to feel balanced
The 6 different mixes he makes for every artist he works with
Reimagining songs in different genres
To learn more about Val Garay, visit: http://www.valgaray.com/
To learn more tips on how to improve your mixes, visit https://masteryourmix.com/
Download your FREE copy of the Ultimate Mixing Blueprint: https://masteryourmix.com/blueprint/
Get your copy of the #1 Amazon bestselling book, The Mixing Mindset – The Step-By-Step Formula For Creating Professional Rock Mixes From Your Home Studio: https://masteryourmix.com/mixingmindsetbook/
Join the FREE MasterYourMix Facebook community: https://links.masteryourmix.com/community
To make sure that you don't miss an episode, make sure to subscribe to the podcast on iTunes or on Android.
Have your questions answered on the show. Send them to questions@masteryourmix.com
Thanks for listening! Please leave a rating and review on iTunes!