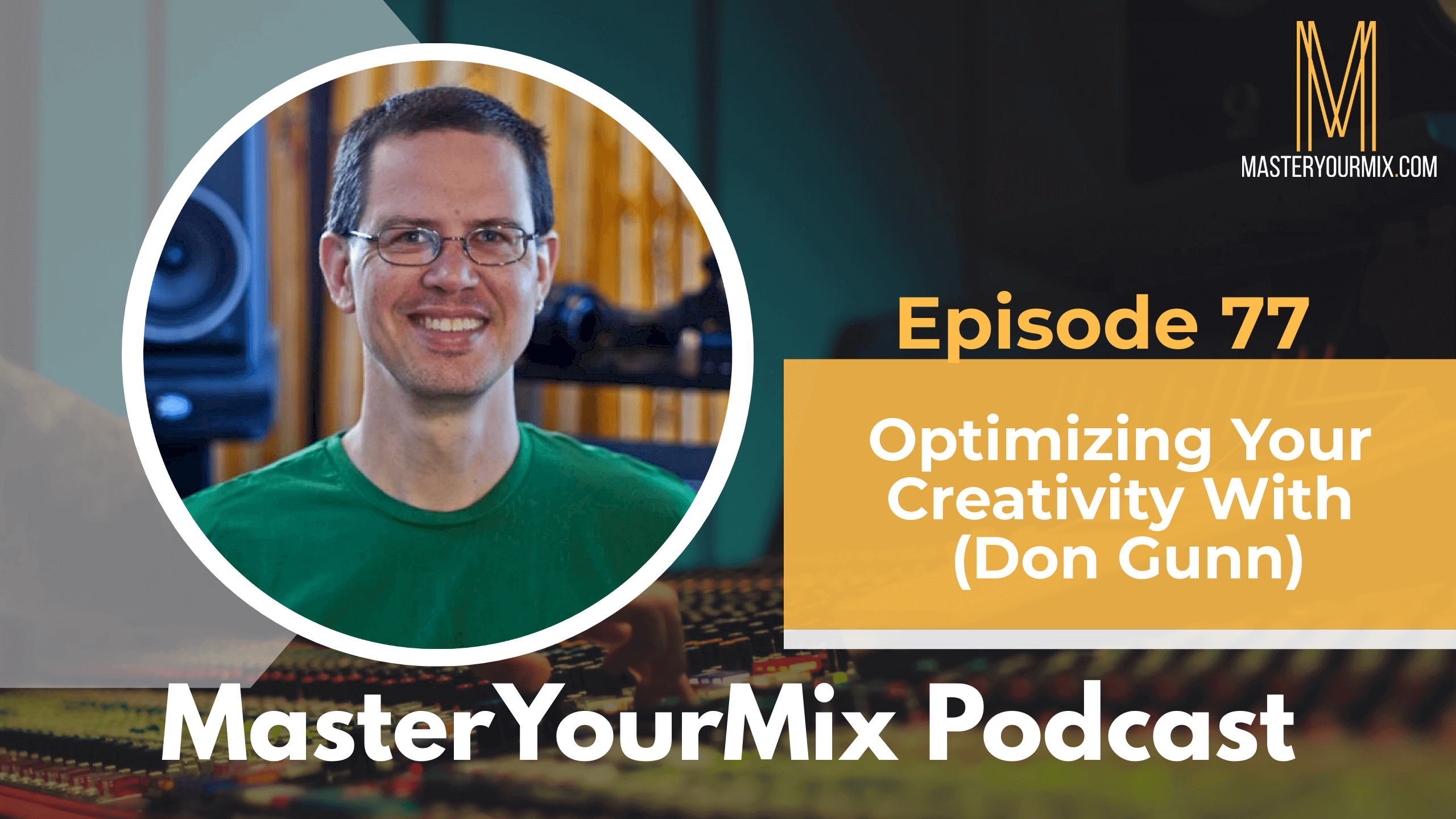 Don Gunn is a freelance recording/mixing engineer, producer, and musician in Seattle, WA. who has worked with hundreds of artists over the years including Death Cab for Cutie, Peter Frampton, Soundgarden, The Lonely Forest, King Crimson, The Humans, and Fences.
Don started Gropius Mastering in 1997, but recently returned to the more creative side of producing, recording, and mixing. He primarily works at Two Sticks Audio in Seattle, a brand new room built by Jason McGerr from Death Cab for Cutie, but also Studio Litho and other fine rooms around Seattle. Don has also written an instructional book on Apple's Logic Pro DAW.
IN THIS EPISODE, YOU'LL LEARN ABOUT:
– Scheduling creative time
– Compartmentalizing your work to optimize your creative focus
– Batching tasks
– How to edit your drums but keep a human feel
– The challenges that come along with mixing live albums
– Mixing King Crimson and Death Cab For Cutie
– Mixing music in surround sound
– How to clean up audio with clicks, pops, and noise
To learn more about Don Gunn, visit:  http://dongunn.com/
To learn more tips on how to improve your mixes, visit https://masteryourmix.com/
Download your FREE copy of the Ultimate Mixing Blueprint: https://masteryourmix.com/blueprint/
Get your copy of the #1 Amazon bestselling book, The Mixing Mindset – The Step-By-Step Formula For Creating Professional Rock Mixes From Your Home Studio: https://masteryourmix.com/mixingmindsetbook/
Join the FREE MasterYourMix Facebook community: https://links.masteryourmix.com/community
To make sure that you don't miss an episode, make sure to subscribe to the podcast on iTunes or on Android.
Have your questions answered on the show. Send them to questions@masteryourmix.com
Thanks for listening! Please leave a rating and review on iTunes!