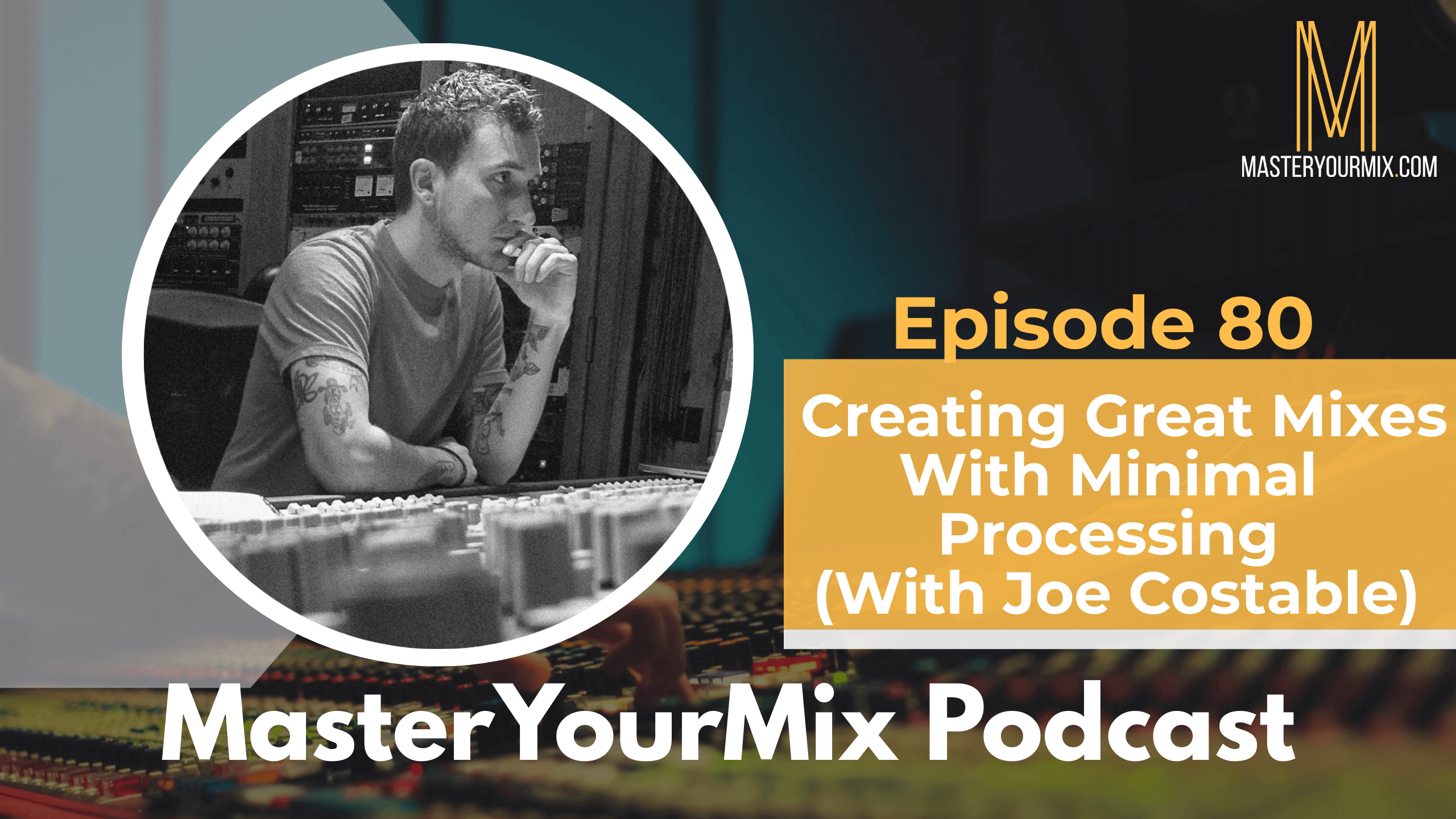 Joe Costable started his career in Houston Texas at Studio 7303. Starting as an intern, Joe eventually moved up the ranks as an engineer working with many prominent artists and producers, such as Mike Jones, Scarface, Mannie Fresh, Gerald Levert, and many others. 
In the years since, Joe has worked with many more artists in genres from hip-hop to shoegaze. His work has been everywhere from top 10 at radio, selling millions of copies worldwide, national ad campaigns, to being featured on the most underground of music blogs.
Joe currently works out of his New York based studio mixing primarily Rock, Alternative, and Pop records. He is a member of the Audio Engineering Society and a voting member of The Recording Academy. 
Some of his notable credits include artists such as American Authors, Good Charlotte, Rob Thomas, Bayside, and Young Rising Sons
IN THIS EPISODE, YOU'LL LEARN ABOUT:
– Top-down mixing: How you can create a great sounding mix just using the master buss
– Why it's a good idea to NOT use compression in your mixes
– Using automation vs compression: Which is better for creating clarity in your tracks?
– Joe's vocal chain
– When and where to use saturation
– Sidechaining effects
– The simple mix prep step Joe takes to have more control over gates and compressors
– Why renaming tracks in your session can actually cause you trouble
– Using Soundflow to save time on your mixes
– A tool to easily convert your stereo tracks to mono
– Streamlining your mix revisions process with a simple app
To learn more about Joe Costable, visit: https://www.joecostable.com/
To learn more about Soundflow, visit: http://links.masteryourmix.com/soundflow
To learn more tips on how to improve your mixes, visit https://masteryourmix.com/
Download your FREE copy of the Ultimate Mixing Blueprint: https://masteryourmix.com/blueprint/
Get your copy of the #1 Amazon bestselling book, The Mixing Mindset – The Step-By-Step Formula For Creating Professional Rock Mixes From Your Home Studio: https://masteryourmix.com/mixingmindsetbook/
Join the FREE MasterYourMix Facebook community: https://links.masteryourmix.com/community
To make sure that you don't miss an episode, make sure to subscribe to the podcast on iTunes or on Android.
Have your questions answered on the show. Send them to questions@masteryourmix.com
Thanks for listening! Please leave a rating and review on iTunes!