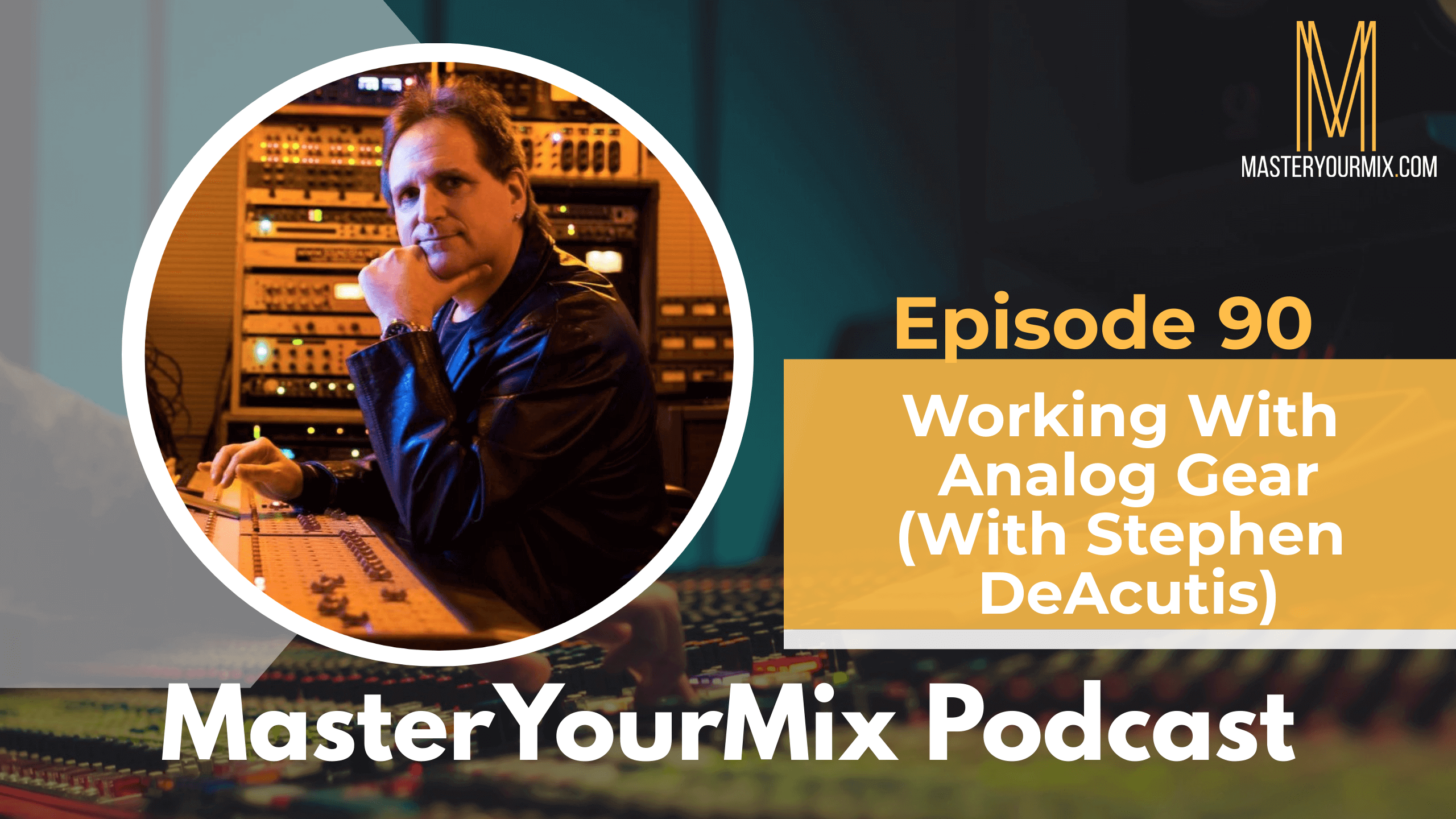 Stephen DeAcutis has been working professionally as a mixer, producer, engineer, writer, and performer since the early 1980's, having honed his skills  and training under such studio heavyweights as Andy Wallace (Rage Against the Machine, Nirvana), Kevin Shirley (Led Zeppelin, Aerosmith), and Max Norman (Ozzy Osbourne) amassing credits  that include such acts as Vanilla Fudge, Gladys Knight, Travers and Appice, Corey Glover, and Cyndi Lauper, to name a few.
He has been contracted by Sony, Interscope, LaFace, Miramax, Columbia, MTV, The Speed Channel, ESPN, Discovery, and numerous others.  From hard hitting rock and pop to death metal and country, you'll find few more experienced and musically intuitive than Stephen DeAcutis.
The achievements of mixing and production specialist Stephen DeAcutis have spanned decades, taken on several roles, and manifested into a diverse number of musical genres. But the common thread throughout these accomplishments has been the artist-friendly attention to detail and dedication of the man collaborators affectionately call "Stevie D."
As the founder and operator of Sound Spa Productions, Stephen has applied his craft as a mixer, producer, engineer, composer, arranger, and multi-instrumentalist to help guide and realize the visions of some of the industry's most elite artists and musicians.
IN THIS EPISODE, YOU'LL LEARN ABOUT:
– Taking the time to get sounds right at the source
– Why "fixing it in the mix" doesn't work
– Achieving a "meter-stick" mix
– Drum replacement
– Why putting limitations on yourself can actually make for better results
– Creating efficiencies with an analog setup
– How recording at the same levels every single time can improve your speed
– Reducing the number of decisions you need to make while mixing
– Recording guitars with DIs
– Finding the optimal mic positioning with guitar amps
To learn more about Stephen DeAcutis, visit http://www.soundspa.net/
To learn more tips on how to improve your mixes, visit https://masteryourmix.com/
Download your FREE copy of the Ultimate Mixing Blueprint: https://masteryourmix.com/blueprint/
Get your copy of the #1 Amazon bestselling book, The Mixing Mindset – The Step-By-Step Formula For Creating Professional Rock Mixes From Your Home Studio: https://masteryourmix.com/mixingmindsetbook/
Join the FREE MasterYourMix Facebook community: https://links.masteryourmix.com/community
To make sure that you don't miss an episode, make sure to subscribe to the podcast on iTunes or on Android.
Have your questions answered on the show. Send them to questions@masteryourmix.com
Thanks for listening! Please leave a rating and review on iTunes!