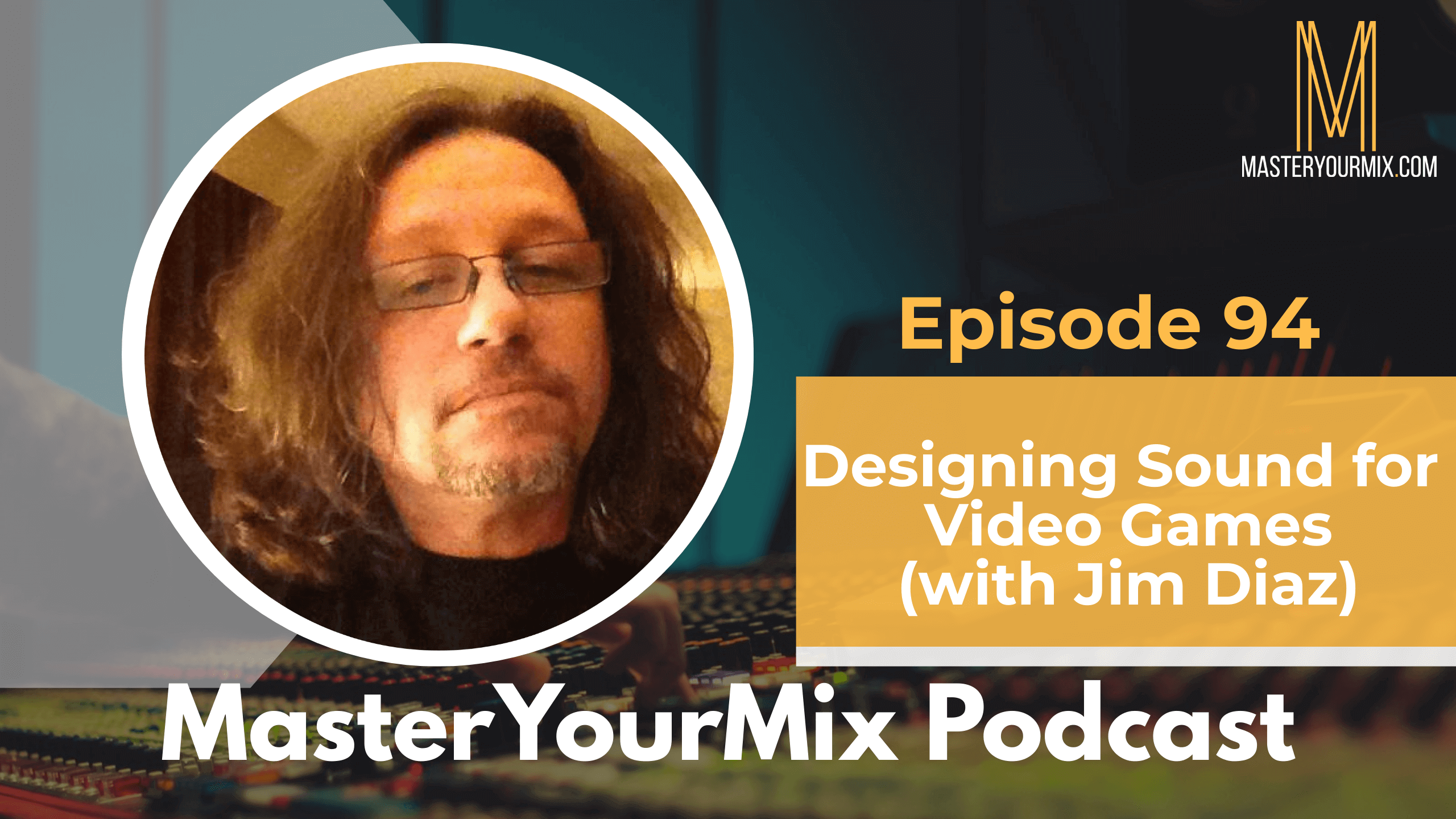 Jim Diaz started his music journey at the age of 6 learning the guitar and then eventually developed more interest and proficiency playing the drums competing in music competitions sponsored by the California Music Educators Association winning Medals for Individual Snare Drum Performance at the age of 10.
In his teens, eventually realizing that Rock Star was not exactly a viable career path. He turned his attention back to school studying Motion Picture Production at the Academy of Art in San Francisco. 
Less than a year later Jim began his Video Game career working for LucasArts Entertainment, the studio who made Jedi Knight, in the Quality Assurance department as a QA Tester and began to move upward through the ranks until eventually getting an opportunity to work in the Sound Department, first as a Sound Library Intern. Jim again rose to eventually being named Audio Lead for LEGO Star Wars: The Original Trilogy as well as recording and performing music for the Thrillville roller coaster park game and culminated as Sound Designer and Facial Motion Capture Dialogue Recording Engineer for Star Wars: The Force Unleashed.
Soon Jim was being recruited by other studios and eventually left LucasArts to work for Activision on what was to be Drum Hero. From Activision Jim went to Sega Studios in San Francisco as Senior Sound Designer where he worked on Golden Axe: Beast Rider and Marvel's Iron Man 2. Sega Studios was shuttered after the release of Iron Man 2 in 2010 which gave Jim the opportunity to begin working as a Freelance Contractor when he launched Session Masters Studios which eventually morphed into Jim Diaz Audio. Jim began to work in Post Production Audio as well as maintaining game work. Jim's clients have included such companies as Zynga, TrionWorlds, Acme Posts/Bruce Hamady Productions, The Walt Disney Company and Sony PlayStation. Jim has also held positions as Senior Sound Designer at Electronic Arts and NCSoft Iron Tiger Studio.
Jim continues to perform and record music in a variety of projects playing a variety of instruments, mostly drums and bass. 
IN THIS EPISODE, YOU'LL LEARN ABOUT:
– Becoming a video game tester
– Creating audio for video games
– How to break into the industry
– Building your sound design portfolio
– Learning how to position microphones when smashing cars and blowing up objects
– Why what you hear in movies and video games isn't always the sound you think it is
– Spatial: The new immersive listening format that is going to change how we interact with our environments
– How Spatial works and how you can get started with it for free.
To learn more about Jim Diaz, visit: https://www.jimdiazaudio.com/
To learn more about Spatial, visit: https://www.spatialinc.com/
To learn more tips on how to improve your mixes, visit https://masteryourmix.com/
Download your FREE copy of the Ultimate Mixing Blueprint: https://masteryourmix.com/blueprint/
Get your copy of the #1 Amazon bestselling book, The Mixing Mindset – The Step-By-Step Formula For Creating Professional Rock Mixes From Your Home Studio: https://masteryourmix.com/mixingmindsetbook/
Join the FREE MasterYourMix Facebook community: https://links.masteryourmix.com/community
To make sure that you don't miss an episode, make sure to subscribe to the podcast on iTunes or on Android.
Have your questions answered on the show. Send them to questions@masteryourmix.com
Thanks for listening! Please leave a rating and review on iTunes!