Eric Ratz is a producer, engineer, and mixer who has worked with many of the Canadian music industry's most successful and influential rock artists/bands including Billy Talent, Big Wreck, Arkells, Cancer Bats, Danko Jones, and more. He was the recipient of the Juno award for Recording Engineer Of The Year in both 2014 and 2015.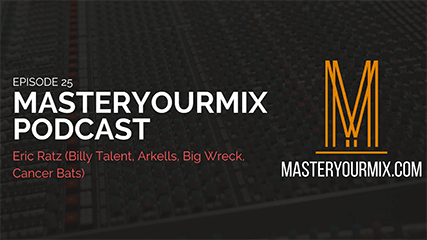 IN THIS EPISODE, YOU'LL LEARN ABOUT:
Paying your dues and constantly working on your craft
His technique for getting massive guitar tones
Tips for tracking tight guitar performances and eliminating finger noises
Transforming "demos" into full blown productions
Stepping outside of your comfort zone to make great work
Tracking records with extreme attention to detail so that the mixing process is easier
The lesson the Chris Lord-Alge taught him about master buss compression
To learn more tips on how to improve your mixes, visit http://www.masteryourmix.com/
Download your FREE copy of the Ultimate Mixing Blueprint: www.masteryourmix.com/blueprint
To make sure that you don't miss an episode, make sure to subscribe to the podcast on iTunes or on Android.
Have your questions answered on the show. Send them to questions@masteryourmix.com
Thanks for listening! Please leave comment or review on iTunes!