James Paul Wisner is a multi-gold record producer who has worked with artists such as Dashboard Confessional, Further Seems Forever, Underoath, Paramore and a whole bunch more. His production techniques helped to launch the careers of many genre-defining artists in the emo, rock, and punk scenes.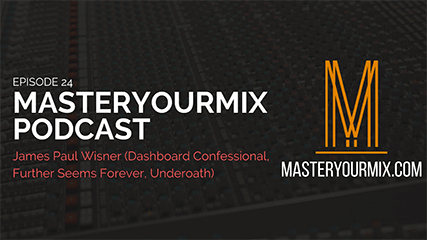 IN THIS EPISODE, YOU'LL LEARN ABOUT
His technique for capturing emotion from singers
The importance of vocal training
Recording pristine acoustic guitar tracks in a small room
Working with bands like Dashboard Confessional and Further Seems Forever
Translating lessons learned from analog mixing to the digital home studio
Creating a feedback loop to reduce mix recalls
Visit James' website: https://www.jamespaulwisner.com/
To learn more tips on how to improve your mixes, visit https://masteryourmix.com/
Download your FREE copy of the Ultimate Mixing Blueprint: https://masteryourmix.com/blueprint/
Get your copy of the #1 Amazon bestselling book, The Mixing Mindset – The Step-By-Step Formula For Creating Professional Rock Mixes From Your Home Studio: https://masteryourmix.com/mixingmindsetbook/
Join the FREE MasterYourMix Facebook community: https://links.masteryourmix.com/community
To make sure that you don't miss an episode, make sure to subscribe to the podcast on iTunes or on Android.
Have your questions answered on the show. Send them to questions@masteryourmix.com
Thanks for listening! Please leave a rating and review on iTunes!